The next day is very special for me. It's my late dad's birthday. Life's been a little less fun without him. It was just hard to get over the fact that he passed away a month before I gave birth to my eldest son. But we do try to move on and celebrate life the way he would want us to. So instead of crying my heart out like I used to, I will take my time to blog hop and get to know more blogger friends through this caravan.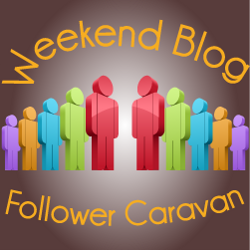 Welcome to

MEGA FOLLOW WEEKEND!

This'll be a pretty busy caravan with a full load of tasks for Facebook, Google and Twitter. I was late in completing my previous tasks but I'm glad I've finished it sooner last week. Now, I'm starting early!
You can find my GFC, Twitter and Facebook Fan Page on the right side. You are sure to gain new followers by joining. If you haven't, yet, join the fun!
Many thanks to this week's sponsors mumwrites, Hands Full of Life and Postcard Enthusiast. Kindly like the WBFC Fan Page, too :)