It's my nth time joining WBFC and I am happy to say that it has indeed helped me gain new friends online. Though I've been missing in action, not being able to catch up with events, I still get to read about them with my usual blog hop and memes. I'm actually joining 2 this week and planning to host 1 soon from my iWahM blog.


What's good about this meme? The mechanics vary, sometimes we get new GFCs at other times we get new fans for our blog fan pages. I'm usually shy talking about my blogs and would rather have people 'accidentally' (well, kind of) visit my blog than force them to like my pages. I guess one nice way of doing it is by joining memes :) Many thanks to Mommy Rubz for coming up with the WBFC! Welcome back fellow WBFC followers :)


Weekend Blog Follower Caravan is a simple online blogger-helping-blogger weekly meme. It was designed for bloggers to help each other in terms of blog followers either through Google Friend Connect and email subscribers.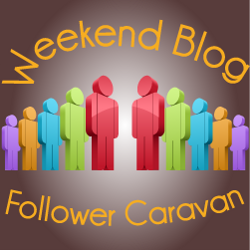 1. Make a welcome post for participants to comment on.
2. Comment on the welcome post if you are a participant.
3. One blog per blogger but you can have two blogs if you have two Google Friend Account.
And while you are here, I want to share something Pinoy Holistic Healthcare believes in:
Looking forward bloghopping!